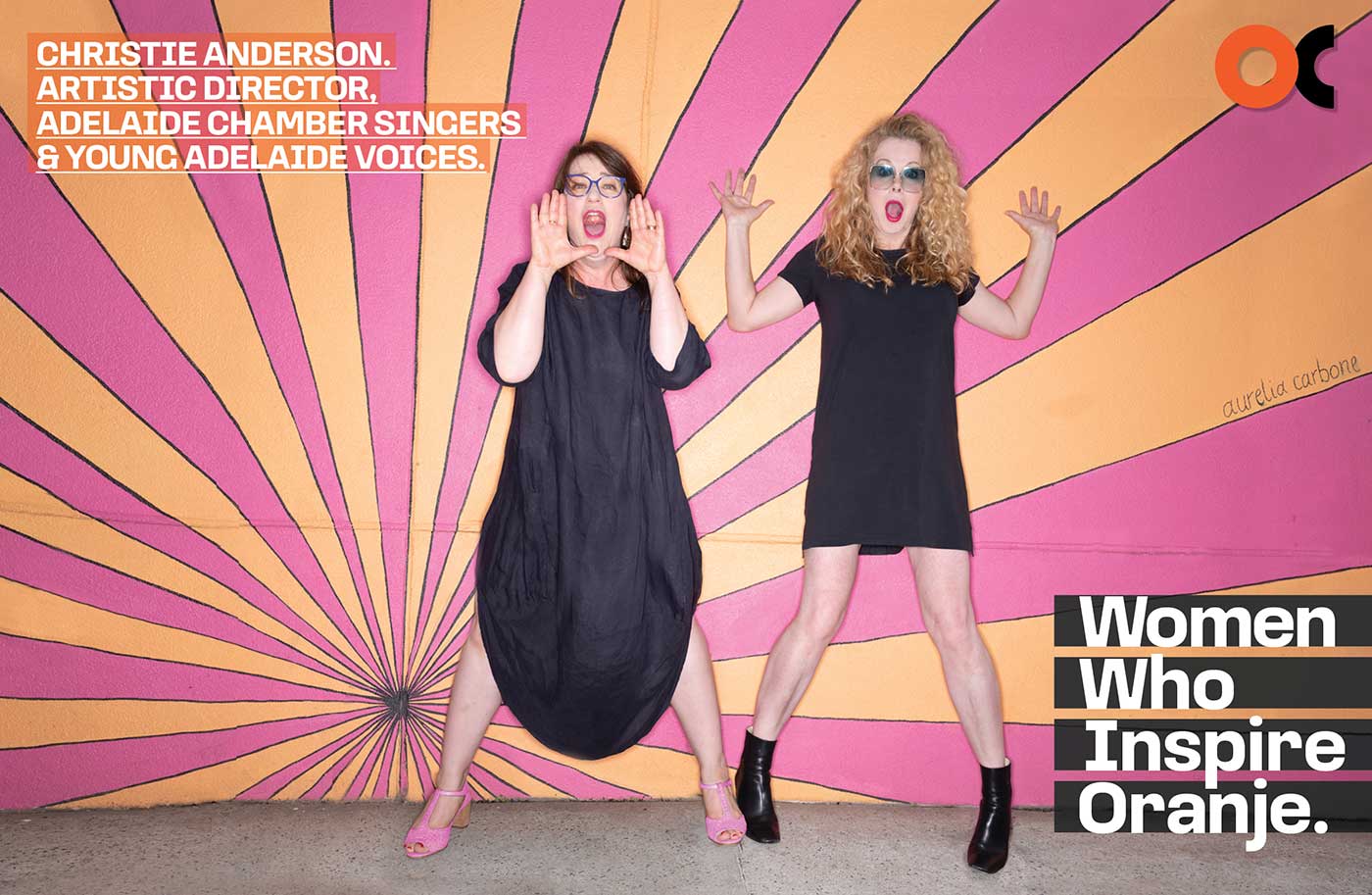 Fri Jan 28 2022
Christie Anderson
CEO, Conductor, Singer
Christie Anderson is music to our ears. Melinda met Christie when the Adelaide Youth Orchestra began developing, in 2005. Christie was CEO. The duo collaborated to make a successful brand from absolutely nothing – except, of course, the brilliance of young musical talent.
A startup of this kind, led by a female CEO was pretty unusual at the time. And Melinda was drawn to Christie's love for music and passion for uplifting young people. So much so, that Oranje's services were given to AdYO, pro bono for a decade.
They now have sell-out concerts each year and turn a significant profit to continue to provide this great service and opportunity to musical young South Australians. In 2022 Christie embarks on a further exciting creative challenge as the new Artistic Director of the multi-award-winning Adelaide Chamber Singers.
She's a singer and award-winning conductor and Artistic Director of youth choir school Young Adelaide Voices, a founding member of the EVE vocal trio and has sung, conducted and presented in many festivals in Australia and around the world.
Nationally, Christie is a regular guest conductor at the Gondwana National Choral School and has been guest presenter across Australia, most recently the Desert Song Festival in Alice Springs. Internationally, she has won awards in San Francisco and Bratislava and has been guest presenter at the Vox Mundi Festival in Timisoara, Romania, discussing Australian music for children's and youth choirs. She is a founding committee member of the Adelaide Choral Network, and is the MD of Adelaide Festival's newly commissioned oratorio, Watershed, collaborating with Adelaide Chamber Singers, director Neil Armfield, composer Joseph Twist and librettists Alana Valentine and Christos Tsiolkas.
Melinda's original tagline for AdYO was 'Play Hard. Live Young' and it seems that Christie does just that. She never stops giving and enjoys every moment.
#TelstraBestofBusinessAwards #acceleratingwomen
#womensupportingwomen #womensupportingwomeninbusiness #womeninbusiness #creativeindustries #creativeagency
#womenwhoinspire #womenwhoinspireoranje
#Telstra #creative #content #director #femaleentrepreneur #womenempowerment #womenempoweringwomen #givingback
#voice #sing #art #orchestra #music #aureliacarbone #AdelaideChamberSingers